Keenan Continues Win Streak, TLI Take Team Trophy In NYC
Keenan Continues Win Streak, TLI Take Team Trophy In NYC
Cornelius moves into fifth-place in the IBJJF black belt rankings after defeating Tim Spriggs by a 9-0 score in the final.
Nov 18, 2017
by FloGrappling Staff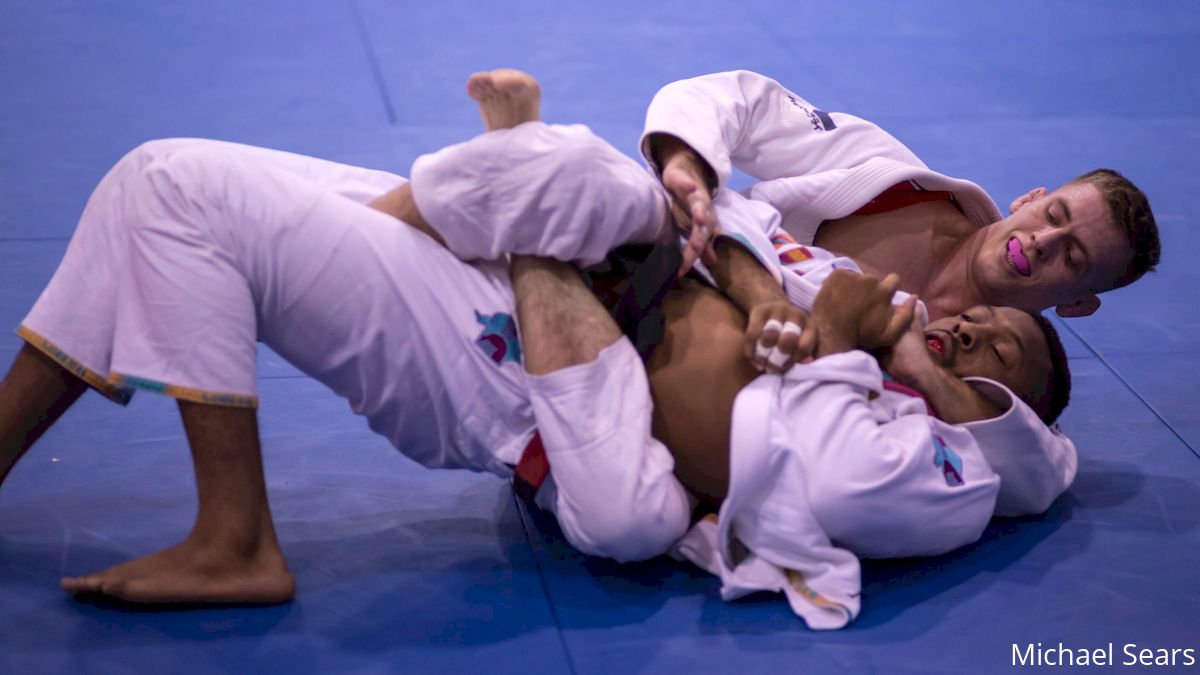 By Michael Sears | The 2017 IBJJF New York BJJ Pro provided plenty of action in big-time matchups and upsets, and showcased some of the young talent on the East Coast.
Keenan Cornelius (Atos) and Tayane Porfirio (Alliance) continued their dominant runs in 2017.
Cornelius moves into fifth-place in the IBJJF black belt rankings and took home the $4,000 after defeating Tim Spriggs (Lloyd Irvin) by a 9-0 score in the final.
Porfirio would win the women's black belt open division after defeating Nathiely de Jesus (Cicero Costha) on advantages in a rematch of their Worlds open class final.
Manuel Ribamar. Photo: Michael Sears
A stacked black belt men's middleweight division resulted in a closeout between friends Manuel Ribamar (NS Brotherhood) and Felipe Silva (Barbosa). Ribamar had a particularly tough road to the final, having to defeat Dante Leon (GF Team) in the quarters and 2017 World silver medalist Marcos Tinoco (Alliance) in the semi. Silva defeated Victor Silverio (Gracie Barra) by ref decision in an extremely close semifinal on the other side.
Left to right: Malachi Edmond, Aarae Alexander and Jamil Hill. Photo: Michael Sears
A clear theme to this tournament was the dominance of a new generation of athletes from Team Lloyd Irvin, led by black belts Jamil Hill-Taylor and Aarae Alexander. Hill-Taylor submitted all three opponents on the way to gold and the $4,000 in the men's featherweight division, while Alexander defeated Kristina Barlaan to take the title in the women's featherweight bracket.
Both brown belt male open classes were won by TLI athletes Malachi Edmond and Angelo Claiborne, and Vanessa Griffin was the runner-up in the female brown belt open. The Maryland based team claimed the team title at this event.
With 169 points TLI also beat New York powerhouse Alliance (165 points) to take the team trophy.
Other results:
• Joao Gabriel Rocha (Soul Fighters) was the champion in the black belt ultra-heavyweight division, defeating Otavio Nalati (Lloyd Irvin) by an advantage in the final
• Kevin Mahecha (American Top Team) knocked off 2017 World bronze medalist Gianni Grippo in the featherweight quarters
• Both male purple belt absolutes were close outs, light being conquered by Wilson Moreira and Jeferson Guaresi of Cicero Costha while Mauricio Oliveira and Giancarlo Bodoni of GF Team met in the heavy open final.
IBJJF New York BJJ Pro results
Black / Adult / Male / Feather
1 - Shane Jamil Hill-Taylor - Team Lloyd Irvin
2 - Silvio Duran de Barros Saraiva - Vitor Shaolin BJJ
3 - Felipe Hugo de Souza Simplicio - Soul Fighters BJJ Connecticut
3 - Kevin Javier Mahecha - American Top Team
Black / Adult / Male / Middle
1 - Felipe Cesar Silva - BARBOSA JIU-JITSU
2 - Manuel Ribamar V. de Oliveira Filho - Ns Brotherhood
3 - Marcos Vinícius da Silva Tinoco - Alliance
3 - Victor Silverio Santos - Gracie Barra
Black / Adult / Male / Heavy
1 - Keenan Kai-James Cornelius - Atos Jiu-Jitsu
2 - Timothy-Michael Spriggs - Team Lloyd Irvin
3 - Matthew W Leighton - Bonsai JJ - USA
Black / Adult / Male / Ultra-Heavy
1 - João Gabriel de Oliveira e S. Rocha - Soul Fighters BJJ Connecticut
2 - Otavio de Souza Nalati - Team Lloyd Irvin
3 - Gabriel Lyrio Lucas - CheckMat
3 - Max dos Santos Gimenis - GF Team
Black / Adult / Female / Feather
1 - Aarae Alexander - Team Lloyd Irvin
2 - Kristina Sofia Puruganan Barlaan - Caio Terra Association
Black / Adult / Female / Middle
1 - Laurah Elizabeth Hallock - GF Team
Black / Adult / Female / Medium-Heavy
1 - Nathiely Karoline Melo de Jesus - PSLPB Cicero Costha
Black / Adult / Female / Heavy
1 - Jessica da Silva Oliveira - Gracie Barra
2 - Maria Malyjasiak - Zenith BJJ
Black / Adult / Female / Super-Heavy
1 - Tayane Porfírio de Araújo - Alliance
Black / Adult / Female / Open Class
1 - Tayane Porfírio de Araújo - Alliance
2 - Nathiely Karoline Melo de Jesus - PSLPB Cicero Costha
3 - Maria Malyjasiak - Zenith BJJ