Para Jiu-Jitsu Is Flourishing Under UAEJJF's Watch
Para Jiu-Jitsu Is Flourishing Under UAEJJF's Watch
The stands were packed, team chants reigning down, and the screams of fans and coaches alike filled the Carioca 1 Olympic Arena.
Nov 15, 2017
by FloGrappling Staff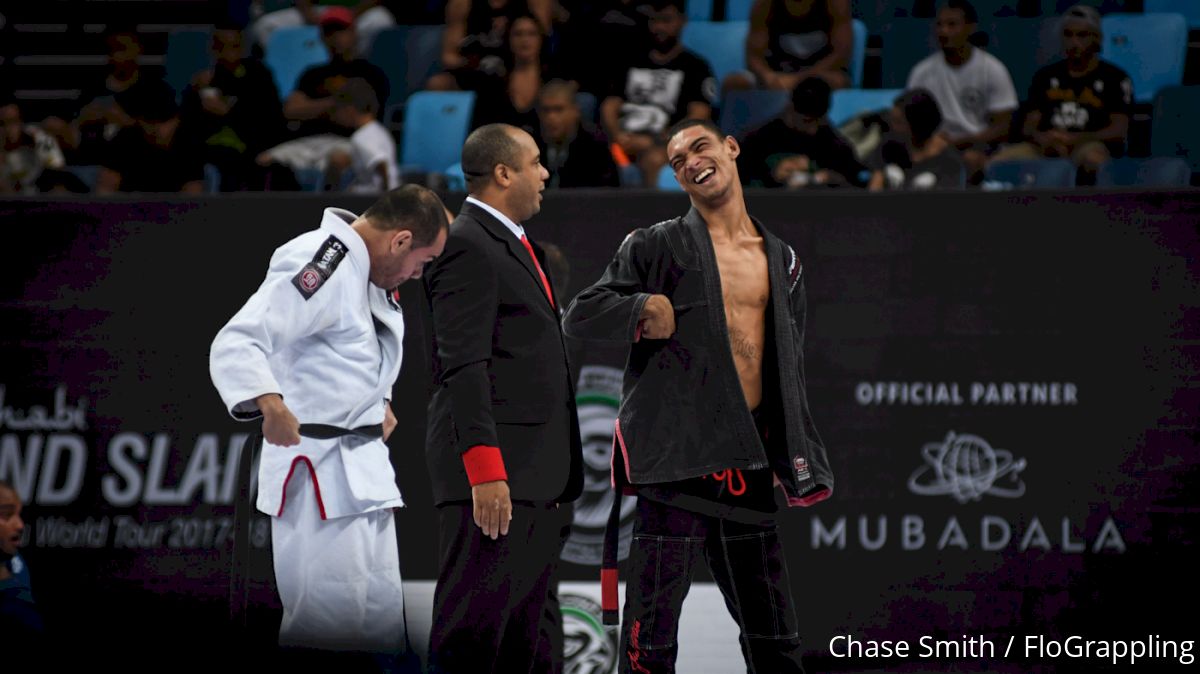 The stands were packed, team chants reigned down, and the screams of fans and coaches alike filled the Carioca 1 Olympic Arena in Rio de Janeiro. Had the black belt finals gotten underway at the Abu Dhabi Grand Slam on Sunday?
Nope. The para jiu-jitsu athletes had taken to the mats. Here are some key takeaways from the impressive and rapidly growing initiative by the UAEJJF.
These aren't exhibition matches
Though there were certainly good vibes and a friendly spirit in the air, make no mistake, these players were here to win. Matches were fought tooth and nail to the last moment. Decisions were derided by coaches and fans, and submissions were rewarded with huge approval from the crowd.
Everyone in the the arena was invested in the matches at hand. It was exceptionally competitive and a great experience for the fans in the stands as well.
Side control obtained. Photo: Chase Smith
The adaptability of jiu-jitsu is endless
There are 13 different para jiu-jitsu divisions, and it was fascinating to see athletes adapt their game to fit the challenges of being a para athlete. Don't be misled, I don't mean to say that it was a "spectacle" but rather an impressive study.
Athletes missing limbs have found ways to exploit the situation to their favor. Triangles, for example, are more readily available to one-armed athletes. Those with amputations or limb differences below the knee have a more readily pant grip that I saw utilized more than once to fish a bow and arrow choke.
Bow and Arrow finish with modified pant grip. Photo: Chase Smith
The movement is only getting bigger
In the top 25 world para jiu-jitsu ranking, Brazil currently leads with 12 athletes. The USA has eight ranked para athletes, and Japan has two. Meanwhile, Costa Rica, UAE, and Argentina all have one.
The 2017 Rio Grand Slam had over 60 para jiu-jitsu athletes in attendance. That's the largest number of competitors since the World Pro in September and a sign that the para jiu-jitsu movement is gaining traction around the globe.
Find videos of para jiu-jitsu athletes here